August 2019 Gardening Newsletter
Dear Fellow Gardeners,
August 2019 Gardening Newsletter
We are spending some time in the Peloponnese in Greece in a beautiful area called Arcadia. The word Arcadia means "a place where nature is at peace" – "an idea of life in the countryside that is believed to be perfect."
The main town of Arcadia is Leonidio. We have been there a couple of years ago and that was the place I found the incredible Tsakonian aubergine – Leonidio. I have researched it since we are here as it is in my opinion the world's best aubergine.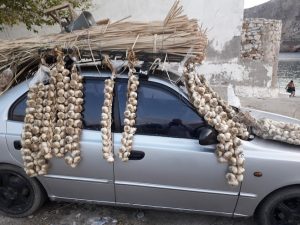 Disappointing tomatoes
One vegetable though I'm disappointed with is the tomato. Most of the time they taste average and even our own sun-starved Irish tomatoes often beat them for flavour. This wasn't always the case. I remember having been in Greece many years ago and tomatoes were certainly the highlight for me especially in a Greek Salad. Now only the divine Greek Feta cheese rescues the salad.
So is it always true that tomato flavour improves with the sun? I might disagree. A Sungold tomato grown in Co. Donegal definitely tastes better and has a thinner skin than one of the modern Greek varieties. So the choice of variety possibly plays a more important role.
Aegean Seed Bank
I came across the equivalent of the Irish Seed Savers Association in Greece – the Archipelago Aegean Seed Bank. There appears to be a massive decline in vegetable and cereal varieties in Greece. Alarm bells should ring. They reckon that only 2-3% of vegetable varieties which existed in Greece 50 years ago, are still being cultivated today. The number of wheat species cultivated in Greece has decreased from 200 to only 20 varieties. Greece had an abundance of vegetable varieties due to the geographical isolation of the Greek islands many local and distinct varieties were developed over the last few centuries.
I spoke with a greengrocer in the local town and he agreed. Up to 20 years ago the tomatoes that came into the shop needed to be sold on the same day otherwise they would bruise. They were so soft skinned and full of flavour that they would melt in your mouth rather than having the typical bland crunch of a modern hard-skinned variety that can tolerate any physical abuse. He reckoned that there are now only about 4 to 6 varieties in shops and they are all modern and bland.
Greek Heritage Tomatoes
So what happened to the real Greek tomatoes? I went to the large Nafplion Farmer's Market. Nafplion is a stunningly beautiful town in the Peloponnese. At the market there were hundreds of tomato stalls and I tried to find one which sells the old delicious mountain tomatoes. I asked my son Thien to keep a look out for tomatoes that were uglier than the others. Luckily I found a stallholder who spoke good English. She said there is one stall which still has heritage tomatoes and brought me there. Luckily she knew the variety name. Like any good gardener – I bought a few kilos, saved the seeds and used the rest in a salad and in a tomato soup.
And yes – these were the tomatoes I remembered from Greece many years ago. The flesh melts in your mouth and you hardly notice that there is a skin on it. They were also grown outdoors higher up in the surrounding mountains unlike their modern cousins that are grown in air-conditioned polytunnels.
The variety I got is called Batala and I managed to save quite a number of seeds. I can't wait to try them out next year in Ireland. We'll also have a small number available for anyone else who is interested in trying them.
The Batala tomato comes from a town called Vavrona and was always considered one of the best varieties in Greece. It is sweet, full of flavour and fleshy making it very heavy. Apparently this spelled its commercial doom. The fruit cannot be stored at all as it collapses under its own weight within a few days after harvesting. Certainly not suitable for modern needs – but what a loss for people! Only a few hobby gardeners are still growing this variety in their own garden.
August 2019 Gardening Newsletter
The Tsakonian Aubergine – Leonidio
The Tsakonian aubergine is a true marvel. It has been awarded Protected Designation of Origin (PDO) status. That means that nobody is allowed to sell the fruits as Tsakonian aubergine unless it is grown in Leonidio and surrounding areas. You are allowed to grow it but you can't call it the Tsakonian aubergine.
The same is true with the beautiful Jersey Royal potato. These potatoes can only be sold as Jersey Royals if they are grown on Jersey Island. If you grow them here in Ireland you have to call them "International Kidney" – what a strange and unappetising name!
The Tsakonian aubergine is the sweetest aubergine and does not need to be salted before cooking. It has pretty elongated fruits – purple with white stripes. The flesh is velvety and tender.
Generally I'm not a fan of aubergines, but these ones are the most delicious vegetable. I spent many mornings walking along the aubergine field in Leonidio admiring the crops.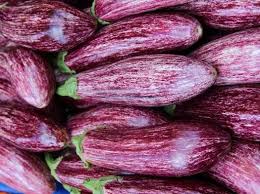 Unfortunately I missed the Leonidio Aubergine Festival by just a few days. It went on for 5 days – celebrating the Tsakonian Aubergine with music, dance, cooking and eating. I'll have to time my holidays better next year.
We have grown the Tsakonian eggplant for the last two years in a tunnel and they are performing really well even in Ireland.
In Leonidio they also use baby aubergines in confectionary and of course – in ice cream. Tsakonian aubergine ice cream – it was delicious.
August 2019 Gardening Newsletter
Upcoming Gardening Courses
Date: Saturday 7th September 2019
Venue: Featherfield Farm, Lullymore, Co. Kildare
Course: Complete Gardening Course with Klaus Laitenberger
This course is suited for anyone who plans to start a food garden. Heated classroom sessions on crop planning, rotations and tips on which crops are best suited for the small garden.
All courses begin at 9:30am tea/coffee. 10am course start. 11:30am tea/coffee. 1:30pm light lunch of soups & breads. Courses finish at 4:30pm with tea/coffee. Facilities include parking, toilets, heated classroom & farm shop.
To book phone 045 903100, 087 624 0811.
Date: Saturday 14th September – Sunday 15th September 2019
Venue: Ourganic Gardens, Co. Donegal
Course: Complete Organic Gardening Weekend with Klaus Laitenberger
Contact: Joanne Butler 087 1789971 or email: ourganicgardensdonegal@gmail.com
Date: Saturday 21st September 2019
Venue: Dalkey Garden School
Course: Winter Vegetable Gardening
Contact: Annmarie 087 2256365
Date: Saturday 28st September 2019
Venue: Skerries
Course: Grow your own organic vegetables
Contact: Mary Marsden email: marsie.mary@gmail.com
Date: 18th – 20th October 2019
Gardening Weekend at Renvyle House Hotel in Connemara
With: Anja Gohlke (Head Gardener Kylemore Abbey), Shirley Lanigan (Garden Writer) and Klaus Laitenberger
Book early to avoid disappointment.
Email: info@renvyle.ie
Tel: 095 46100
There will be talks and workshops on organic vegetable, fruit and herb growing by myself, a tour and workshop with Anja at Kylemore Abbey Gardens and Shirley Lanigan will give a talk on Saturday evening on:
'The West's Awake – How the gardens of Connaught and the western seaboard have blossomed in recent years.'
Date: Tuesday 5th Nov – Wednesday 6th Nov 2019
Venue: Midland's Park Hotel, Portlaoise
Bio-Farm 2019 – Ireland's Second Biological Farming Conference.
Early booking is essential as last year's conference sold out very quickly. Have a look at www.nots.ie or contact Sean on info@nots.ie
Apologies – I got carried away again with tomatoes and aubergines – and very few gardening tips this month. I still hope you enjoyed the read.
August Gardening Newsletter
Happy Gardening,
Klaus Laitenberger
Links:
Featherfield Farm:
http://www.featherfieldfarm.ie/
Green Vegetable Seeds Newsletter:
https://greenvegetableseeds.com/newsletters/
August 2019 Gardening Newsletter