A Vegetable Growers Handbook – €9.95
 A clear and concise guidebook for growing a wide range of vegetables both outdoors and with  protection.  It is written in a way that is designed to give the reader a visual guide to growing vegetables.
It can be taken out into the garden and is packed with practical information on how to grow all your vegetables.  It covers seed sowing, plant care, planting and harvesting and is aimed at getting people out    into their gardens and helping them to grow their own food.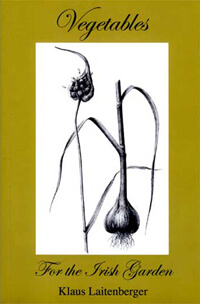 Vegetables for the Irish Garden
"Klaus has spent many years learning the art and craft of vegetable growing, experimenting with different plants and techniques, and passing on his knowledge to countless students of all ages.  The last ten years have been spent in Ireland, where you could say that his teacher has been the Irish climate and Irish conditions.  So he has mastered the vagaries of boggy soils, high rainfall, the most common pests and diseases, and has distilled what he has learnt into this book.  It embraces everything from lazy beds to green manuring: there's even a section on the common mistakes beginner make.  This book will be an invaluable source of information for vegetable growers here - novices and experienced alike."
- Joy Larkcom
Price: €14.95
Shipping: €4.95
---
Fruit & Vegetables for the Polytunnel and Greenhouse
This book is for anyone who wants to grow a wide range of vegetables and fruit in a polytunnel or unheated greenhouse.  It provides comprehensive growing instructions for a wide range of crops for the keen grower as well as for the complete beginner.  It's easy to read and packed full with valuable information.
Price: €19.95
Shipping: €
---