Gardening Courses and Workshops for 2021
Upcoming Gardening Courses
Online Gardening Course:
I'm starting to run an online gardening course aimed at complete beginners to semi-advanced gardeners who want to grow some of their own food – vegetables, salads, herbs and fruit.
To book the course either email me on klauscourse@gmail.com for more information
or click onto the following link to book the course:
https://forms.gle/sCckSUaShFYy5JVx8
The online course runs fortnightly or weekly depending on growing season.
10 sessions from September to February  – Cost €70 (open for bookings)
10 sessions from March to May         – Cost €70
The course will be professionally filmed and live-streamed.  If you can't join at that time you can watch it later. I have been working with Mark Megahy – the film-maker for the last two years on Polytunnel courses with NOTS. Some of you may have taken part in it.
Each session consists of about 45 minutes gardening demonstrations, interesting plant facts, gardening tips and includes vegetable, salad, herb and fruit growing.  Following each session you can email me questions on any topic.  I will answer the questions and collate them and distribute them to all course participants.  The purpose of this course is to accompany you throughout the gardening year.
I'm also considering visiting a couple of the participant's gardens to give some advice if there are some participants interested. This will also be filmed.  However, this should be within an hour's drive from Rossinver, Co. Leitrim.
It's also aimed at families who want to garden with their children as my two young children will join me for some of the sessions on their own allotments.
Booking the online course
Bookings for this course are now open.  Please send me quick email on klauscourse@gmail.com or
to book instantly please click the following link:
https://forms.gle/sCckSUaShFYy5JVx8
Gardening Courses and Workshops for 2021
Date: Saturday 25th to Sunday 26th September 2021
Gardening and foraging weekend in Belle Isle Estate, Co. Fermanagh
Course: Garden, Field, and Forest
Belle Isle Estate is offering a new two-day weekend course where participants will be able to connect with nature on many different levels. During the duration of two days you will learn about wild plants that can be foraged to be used in your kitchen as well as how to grow your own vegetables both outdoors and in the polytunnel. Saturday will be spent learning from the gardening expert Klaus Laitenberger about soil fertility, composting, green manures, propagation, seed sowing, cuttings, and organic pest control. There will be a talk and a presentation both in the historic 18th century walled garden within Belle Isle and in the recently built polytunnel so that you will be able to gain both theoretical knowledge and hands-on experience.
Sunday you will spend all day learning from professional forager Clothilde Walenne about identifying and foraging wild plants that grow in abundance around Belle Isle and how to use them in your kitchen. During this workshop, Clothilde will guide you through the wild foods found in Ireland, where to find them, how to recognise them and how to store and preserve them easily. We will serve a scrumptious lunch on both days prepared from produce grown on Belle Isle Estate.
This 2-day course is £200 including lunch on both days
Discounted accommodation is available for participants
Please email tatiana@belle-isle to register and book your accommodation
more info here https://belle-isle.com/residential-courses/
Date: Friday 8th to Sunday 10th October 2021 and a second course announced starting Sunday 10th to Tuesday 12th October 2021.
Gardening Weekend at Renvyle House Hotel in Connemara (only a few places left on the second course)
Please click on the link below for the Renvyle House website:
Gardening Break | Renvyle House Hotel & Resort, Connemara
With Klaus Laitenberger, organic gardening expert and author and Anja Gohlke, Head Gardener at Kylemore Abbey's Victorian Walled Garden.
Over the course of this weekend you will learn about the gardening tasks that may be undertaken at this stage of the year in preparation for a productive spring, summer and autumn ahead.
What will be covered:
Friday evening – an Introduction (Library) with Anja and Klaus
Saturday morning- workshop with Klaus
Topic: Powerpoint presentation:  Grow your own organic food – Tips for preventing weeds, pests and diseases; How to make your soil fertile; Composting; Choice of crops
Saturday afternoon – Workshop with Klaus and Anja. Topic: Propagation methods – seeds, cuttings, division etc
Saturday early evening –Talk/workshop Anja. Topic: Introduction to Garden Design
Sunday morning
Practical demonstrations: Gardening jobs in October
– Covering beds with seaweed or black plastic
– Growing a winter green manures eg field beans
– Planting an autumn crop (garlic, broad beans)
– Growing winter crops in a polytunnel, choice of tunnel or greenhouse
– Forage walk in the Garden and identify delicious edible weeds.
The same topics with some variation are the same for the Sunday to Tuesday course.
Weekend Rate: €255.00 pp
Tel: 095 46100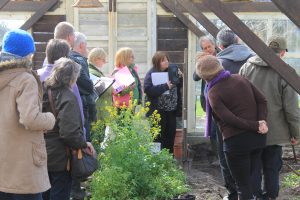 Email: info@renvyle.com
Early booking directly with Renvyle is recommended as places a limited.
Gardening Courses and Workshops for 2021
Our seed shop: